Testimonials
Please visit our showroom to see copies of these letters and many more.
March 2009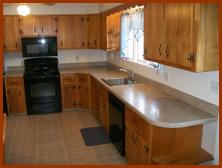 Dear Jeff:
Joyce and I want you to know how pleased we are with our new countertop. Everyone who has seen it has remarked about how good it looks. Thanks to you, the entire process, from selecting the right countertop for us to installation, went smoothly. Your installation crew was friendly and professional and they did a great job, all in one day. Now we will enjoy it with the knowledge that you stand behind your work and will be there if we need you.
Sincerely,
Bruce Fish
Bolton, CT
March 2009

Jeff…
When my wife and I finally decided that we desired to upgrade our kitchen, the first question in our mind was what changes did we want to make.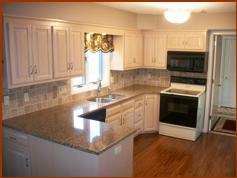 We decided we wanted to keep the cabinets and upgrade our countertops, back splash, sink and faucet, along with numerous smaller features such as cabinet, pantry door, and coat closet door hardware. We also wanted to remove our "pinkish" floor tile and replace it with hardwood flooring. Once we narrowed it down we recognized that we required some "designer assistance." While we knew what we did NOT want, we certainly could use help coming up with the design we DID want.
As our conversations began, initially with Rose and then Jeff, we felt very comfortable with the feedback we received and the suggestions that were made. We continued to have more conversations on design with Jeff, in addition to his trip to our house to take measurements, but also to have a look at what our kitchen and nearby rooms were.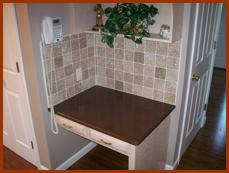 In truth, we thought the initial cost of the countertop, sink & faucet was more expensive than what we wanted to spend. Our dilemma was that Jeff had provided us considerable personal attention and many excellent recommendations that we really desired to do business with Heritage Kitchens due to Jeff's close work with us. Jeff worked personally with us in helping us to slightly reduce our costs, coming up with a plan that was a little more affordable for us.
During the project Jeff was always in contact with me, providing updates and further suggestions, until we finalized the plan. He also was present during the beginning of the install.
We have had difficulties with the installation of the soap dispenser and have contacted Jeff on 3 occasions regarding this. But he has been responsive and has communicated with me in a timely manner, which is the service that I expect. While this is still not resolved at this time, Jeff has a person addressing this for us.

Regarding the quality of the work performed… We are very pleased with that…Totally.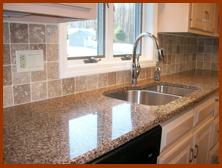 The other thing that seems so trivial, but is important to customers, is the schedule that was originally provided to us was met. When you said you would be here to install, that was the day it occurred… no changes to plans.
We were quite pleased with the quality of workmanship on the project and the customer service your company provided. However, it was the initial service, availability and design recommendations given to us which kept us with Heritage Kitchens.
Joe Metzger
Vernon, CT
December 2008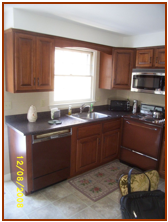 To Ray, Cindy & Jeff:
I'd like to thank you and the whole crew that worked on the renovation of my kitchen & baths. It was a pleasure dealing with all you. I really appreciate the time out you took (especially Greg) to answer and act on any work related question or request. Thanks again for a good job done on time.
Have a wonderful Christmas and a prosperous New Year.
Sincerely,
Mrs. J. Mageau
Vernon, CT
November 2008
To Jeff, Ray, and all the staff at Heritage,
Thank you for all your help with our kitchen project. We love the new look in our kitchen, and appreciate all your guidance in choosing the products, and the colors. All of the staff involved in the project were pleasant, courteous and prompt. The job was done so efficiently that we experienced a minimum of inconvenience. We are looking forward to our next project with you, and we will be happy to pass on your name to friends and family who are interested in kitchen or bath remodeling.
Thanks again,
Ed & Harriet Zawistowski
Manchester, CT
November 2008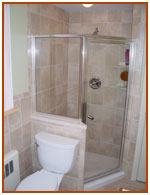 Dear Chuck:
We would like thank you for all the help you did in remodeling our two bathrooms. Your knowledge of all the products and the design was very helpful in putting this project together. The crew, led by Jeff, was very helpful and polite in answering multiple questions (especially from Jennifer). They were always on time and did not take a lot of breaks like some companies do, plus they cleaned up every day before they went home. Their craftsmanship showcases their knowledge.
I would highly recommend Heritage to anyone they wants to have a quality job done.
Sincerely,
Michael & Jennifer Markstein
Manchester, CT
November 2008
Dear Jeff,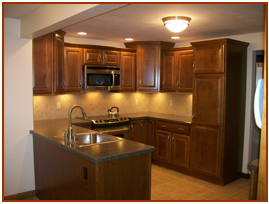 A long overdue "thank you" for a job well done. I can't tell you how happy we are with our "new" kitchen. We are thrilled with the design and the final outcome. The increased counter space and improved lighting are just great. The cabinets, flooring and backsplash coordinate beautifully. The quality of workmanship is exceptional.
We have received nothing but compliments from our family and friends when they see the kitchen. Please extend our thanks to the "work force," including the painters and cabinet finisher, for a great job.
Thank you, Jeff, for your expertise and patience in planning our kitchen. We enjoy your working design
every day.
Sincerely,
Jean & Glenn Potter
Vernon, CT
October 2008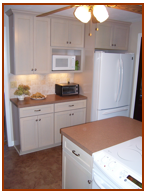 A simple "thank you" is not nearly enough to express our gratitude for the beautiful new kitchen and bath Heritage created for our home. Much more needs to be mentioned.
Chuck Giardino and his team were professional, talented and courteous during the entire project. Chuck's design talents were creative and innovative as many have told us. We especially appreciated his many visits while construction was underway.
Every craftsman displayed confidence and perfection in their workmanship-a totally dedicated team. At the end of each day they left our home clean and organized, and kept us informed of what would be done the following day.
Thanks to all, we now have an updated kitchen offering a wonderful workflow as well as a comfortable place to gather with friends and family.
Thank you again for a pleasurable experience.
Sincerely,
Francine & Barry Cowles
Hebron, CT
October 2008
Dear Chuck,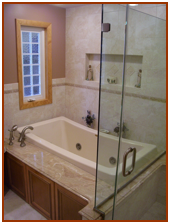 When we first visited your showroom we were just looking for bathroom design idea, since we already had a contractor that we had previously used, were happy with, and planned to re-use on this job. In spite of us stating our intentions of using our previous contractor, we still found you to be very helpful in initial plans for this major bathroom renovation, which included changing not only all the plumbing (both fixtures and locations) but also walls, doors etc. After your initial visit to our house to review the planned project (again being so very helpful), my husband decided to contract you as a design consultant for the project. However, because this was our "master" bathroom and would require us having to vacate our bedroom daily, we obviously wanted the project done as quickly as possible. Since we had already enjoyed working with you through the initial design stage (appreciating your excellent ideas), when you were also able to quote us a very reasonable time frame to complete the work (6 weeks) we decided to go with Heritage for the complete project.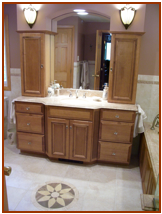 We never regretted this decision, since the best was yet to come. As well as providing first class craftsmanship, your workers, especially Jeff and John, arrived on time every day, provided daily protection for all of our floors and furniture (cover up in the morning, remove and clean up at end of day), and continued to give us honest opinions on the proposed work, even with it meant more work for all of you. Even when we changed our mind on specific design aspects, all of you were so very pleasant, never making us feel the changes were any bother to you. Chuck, we felt you were always on top of things, whether on site or by phone.
We are delighted with the final outcome. The bathroom looks beautiful, was finished on schedule and we have not found a single fault with anything (everything was done to perfection!). What could have been a trying time was a pleasant as could be! We wish all of you the best of luck and success in the future.
Best regards,
Carol & Terry Morrison
Vernon, CT
August 2008
Dear Ray,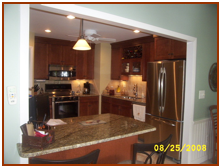 Thank you so much for a job well done, every aspect of our kitchen remodeling exceeded our expectations. You and Cindy were very helpful – full of great suggestions and gave us lots of time, so we never felt rushed to make a decision.
We are also very pleased with the entire crew of Heritage Kitchens (Ray, Tommy, Drew, Greg & John) who were always prompt and very considerate towards our needs. Never leaving without making sure that all loose ends were wrapped up and work area was neat.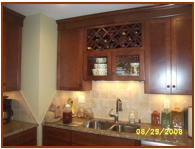 We also must mention that Greg did a fabulous job on the tile backsplash.
Last but not least, we would highly recommend Heritage Kitchen & Bath to our friends and family who might be considering a home remodeling project.
Thanks again to everyone!!!



Sincerely
Tony & Shirley Marone
Glastonbury, CT

June 2008
Dear Jeff: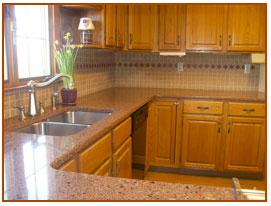 We recently (this week) had the pleasure of doing business with your company and are extremely glad we did. Not only did we get to pick the kitchen countertop, but also the backsplash tile, sink and faucets that your company would install in our home. I wish this letter could convey our joy with the results, but I think it will fall very short of expressing our elation at the On-Time completion and the exquisite look that we ended up with.
The people that you sent, Drew, Bruce (I think that's his name) and his boss all did their best to make sure the job was "top notch" from the beginning. When Bruce first came out to make the template, we were impressed with his organization. When the countertop arrived, we were even more impressed with the organization with which all three of them proceeded to first remove the existing top then install the new one. They left nothing to chance, even to the extent of removing the over-the-range exhaust fan, so it wouldn't get in their way when they moved the countertop inside the kitchen. Although it was in three pieces, it was very heavy and they didn't want to get the slightest scratch on it.
The next day, Drew came back and installed the backsplash tiles and grout. Once again he was a pleasure to work with. I kept remarking how well organized he kept his truck; everything was tied down. As a former C-130 cargo plane pilot, I noticed the tie downs most of all.
Thanks again for the exquisite, on-time job.
Sincerely yours,
John & Judith Gloria
West Suffield, CT