OUR PROCESS
Heritage customers trust the guidance and "one-stop shopping" of our company to provide a positive experience, from designing around their ideas to execution of their remodeling project, right down to the last brush stroke. This is how we go about the process…

GATHERING SOME INFORMATION
To request an estimate, you may place a call to our showroom and speak with our receptionist. Or, better yet, visit our recently remodeled showroom, speak with our staff and browse through our many kitchen, bath and product displays.

INITIAL PHONE CALL
Whether over the phone or in person, we will gather some information about your remodeling plans and give it to one of our Designers. He will contact you within a few days to further discuss your project and give you a rough price range for your project and, as needed, schedule a no-obligation, in-home consultation.

IN-HOME CONSULTATION
During this visit to your home, we will take some measurements and photographs. The Designer will work up a quote reflecting your specific remodeling needs using product, electrical and plumbing allowances.
After considering this free estimate, if you would like to proceed, a retainer may be required to move forward, depending on the project. This fee is fully applied to the cost of the project.

DESIGN/MATERIALS SELECTION
To begin this step, we will need to schedule a showroom appointment to review drawings and select products with your Designer and/or our Interior Decorator. Further appointments are likely to adjust the design to get it just the way you want.

THE CONTRACT
We then write up the agreement, detailing the scope of work, payment schedule, final approved drawings and materials chosen. At this time, we review the paperwork together, add signatures and collect a deposit. Then, we set a tentative start date and order all the materials. This start date may change, based on possible changes in product lead times.

CONSTRUCTION
Once the project has begun, your Designer changes hats to become your Project Manager and will oversee the work through to completion.

COMPLETION
Upon completion of the punch list walk-thru, we collect the final payment and share the moment of completion, taking pictures of your new kitchen, bath, etc. We are happiest when we know you will share our business with your friends.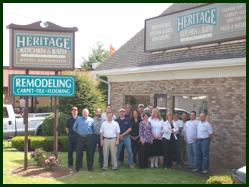 For over 25 years, the Heritage process has provided a pleasant and gratifying remodeling experience for our thousands of satisfied customers.
As a full service remodeling company, we're able to provide full, turnkey service, going beyond design to handle plumbing, electrical, carpentry and more……….. truly one-stop shopping.
Heritage does it all.
Our installers have over a 25 year history with Heritage, reflecting our long-standing commitment to bringing you the most skilled craftsmen and reliable service available.